From Tucson Local Media – The Explorer on May 9, 2018
by Logan Burtch-Buus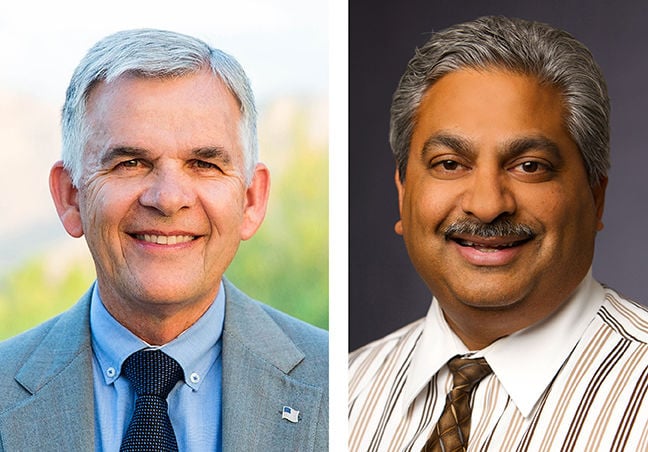 It didn't take long for potential candidates in Oro Valley's upcoming town council election to collect petition signatures to become full-fledged participants in the Aug. 28 primary.
As of deadline, Tucson Local Media has confirmed with the Oro Valley town clerk's office that all four incumbent candidates and mayoral candidate Joseph Winfield have submitted the necessary number of resident signatures to be included on the ballot. Mayor Satish Hiremath, Vice Mayor Lou Waters and Councilmembers Mary Snider and Joe Hornat are all facing re-election this year—and all aspire to another four years on the town's legislative body. Potential challengers have to turn in at least 345 valid signatures on nominating petitions by May 30.
"It feels great, and I feel grateful for all the folks that helped with that effort—the circulators, residents of Oro Valley who signed my nomination petitions, I really appreciate everyone's efforts," said Winfield. "For me, personally, it represents 40 hours of canvassing and at various events…and I think that's what's behind those signatures, the conversations and the enthusiasm of volunteers helping with my campaign."
Winfield said that while canvassing and getting to know residents, several topics and themes were mentioned "again and again," namely the rate and type of development occurring in the town, the golf operations at the community center and a "loss of confidence" among residents for the town council to "resolve the problem."
If elected as the next mayor, Winfield said he would bring "independent" analysis and judgment to the dais and provide opportunities for residents to have their voices heard—something he said the current council does not adequately accomplish.
Winfield first introduced himself to Oro Valley voters during the 2015 recall election, during which time he also ran in the mayoral race. As previously reported by Tucson Local Media, Winfield dropped out the race in the midst of a candidate forum. Winfield said he quit two years ago because he felt as though his intentions were overshadowed by the strong emotions surrounding the recall.
This time around, Winfield said he sees discontent among the community regarding a variety of issues. He said that, in general, "folks are looking for a change." Winfield said that residents with whom he spoke were unhappy with the current mayor and council. He said their unhappiness could be characterized by "the rate of development, by the type of development, the continuing losses related to the golf course."
While Winfield said he interacted with a voting body discontent with its elected leadership, Mayor Hiremath said his own canvassing experience—and that of all the incumbents—was a positive one.
"The four of us, we're a known quantity, and there are a lot of people that really appreciate what we've done with the Town of Oro Valley over the past eight years—and they like the direction we're heading," Hiremath said.
All four incumbents were first elected to council in 2010, and were re-elected in 2014. After the December 2014 vote to acquire the now community center from HSL Properties, the four same councilmembers were the subject of a potential recall in 2015. Hiremath, Waters, Snider and Hornat survived the effort, and now face their end of term this year.
Hiremath said it "felt good" to interact with the community while canvassing and collecting signatures, though the mayor did express some apprehension at the presence of what he considers "sound-bite" politics intended to drum up negative emotion among residents.
"We didn't really get any negative feedback at all," Hiremath said regarding his canvassing efforts. "There were some concerns about the negative campaigning signs that say we're 'blading and grading' the desert and I just say, 'Look around you. You can't even see anything because of the amount of foliage.' It just couldn't be further from the truth; rezoning has allowed us to preserve a significant amount of acreage that we wouldn't be able to preserve otherwise."
Hiremath said that voters shouldn't "fall for the sound bites" regarding the community center or the golf courses, and chastised those in the community willing to utilize such tactics.
"Our community, and our residents, should expect more from our local elected officials than mirroring of the politics happening at the state and national level," he said.
As for challengers, both to his seat and the rest of the council, Hiremath called them "single-issue candidates."
"And government is not about single-ticket issues," Hiremath said. "It's not just about government, it's not about runaway budgets, it's not about any single thing. It's about governing—and governing is all-encompassing. If people can realize that and reflect over the last eight years to see what they have now comparatively speaking to the amenities they had before, that's the take-home message."